ITM Presents The WLS Annual 'The Future of Medicine Foundation™' Forum
Defeating COVID & Returning Health to Humanity Through Nutrition Based Medicine
13 December 2020

WORLD LEADER SUMMIT IN THE NEW NORMAL
CONNECT. EVOLVE. INNOVATE. SCALE UP
Featuring more than 90+ countries 100+ global leaders.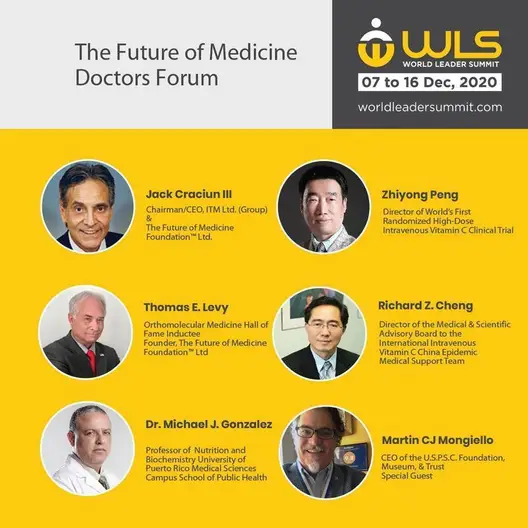 The inaugural WLS 2020 "The Future of Medicine Foundation™ Forum took place December 13, 2020, and featured the world's leading doctors, scientists, and researchers who are successfully preventing and defeating early-stage COVID-19 as well as defeating critically ill hospitalized COVID-19 patients.

The Future of Medicine Foundation™ Forum
Defeating COVID & Returning Health to Humanity Through Nutrition Based Medicine
Moderator Jack Craciun III Chairman/CEO,

ITM Ltd. (Group) & The Future of Medicine Foundation™ Ltd.
Global Communication and Broadcasting Pioneer
Globally Recognized China Specialist

Presenters: Jack Craciun III
Greg Kunin, VP of the National Health Federation (NHF)
Richard Z. Cheng, MD, PhD.
Thomas E. Levy, MD, JD.
Zhiyong Peng, MD, PhD.

Special Guests: Martin Mongiello, US Presidential Service Center Foundation™ Trust
Michael J. Gonzalez, PhD

TOPICS:
-- Birth of Nutrition-based Medicine (ISOM / OMNS) and Integrative Medicine
-- Covid-19 Reveals Mainstream Medicine Shortcomings
-- Will Vaccines Save Us From This Pandemic?
-- COVID-19 - How can I cure thee? Let me count the ways.
-- World's First COVID-19 Gold Standard Clinical Trial

The Future of Medicine Foundation™'s participation in the global World Leader Summit are part of ITM's global sustainable communication and marketing program to deliver its purpose to "return health to humanity through Nutrition Based Medicine" by educating the public, business, medical, and government leaders, and the healthcare industry by consistently reporting good science and conveying newsworthy facts born from gold-standard nutrition-based clinical trials that prove the importance of Orthomolecular Medicine's application of nutrition-based medicine to prevent and/or cure disease in order to sustain or regain a healthy quality of life.